Archive for the 'Park Security-Police' Category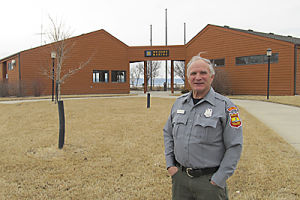 CROFTON NE March 31 2013 — After 43 years working with in Nebraska Game & Parks Service, Larry Joachimsen has decided it is time to retire.
The 65-year-old Joachimsen plans to do some fishing and hunting, among other things.He recently talked while he drove the miles of park roads that wind through the Weigand-Burbach State Recreation park area.
Looking across Lewis & Clark Lake in the Bloomfield primitive camping area, he noted the ice lasted a month longer this year than last year. He also pointed out that the ice always thaws the same place every year — to the west on the Nebraska side across from the Springfield Colony. The park rangers have come to believe there must be a spring feeding the lake somewhere, introducing warm water to speed up the spring thaw.
There are 300 camping sites in the Weigand-Burbach State Park including several options like full-service camping pads and primitive camping sites without electrical service. Already, the 85 reservable camping sites are taken for the three major holiday weekends this summer, Joachimsen said.
"One day this winter we were on the park website, checking reservations, and as we watched, someone canceled a weekend reservation for a camping site," Joachimsen said. "And we were surprised as someone immediately took that opening and reserved it. That's how popular our camping sites are." Another popular area in the Weigand-Burbach Park is the cabins that are open for use year-round. Also in the Weigand-Burbach Park, there are 117 boat docks available for lease.
Joachimsen said the staff keeps a careful and accurate record of ownership and lists the date the lease begins because the waiting list for a dock numbers 145 boaters. The turnover for boat docks is low. As he ends his leadership, Joachimsen said he was pleased when a handicapped-accessible boat ramp was completed at South Shore.
"It does my heart good when I see wheelchairs on those ramps, getting loaded on a boat," Joachimsen said. "Making camping enjoyable for everyone is an important improvement." He is glad to be a part of expanding the park services to serve all campers.
The park workers are starting to include handicapped-accessible camping pads where they can in the park by pouring cement around a pit near a camping pad to make it easier for wheels to roll. He would also like to see a handicapped-accessible shower in the Burbach area and parking for a few more boat trailers. His last official day is April 5. Leaving will not be an easy chore for Joachimsen. He will miss the people when he leaves the park service — the campers who enjoy all the things about the park. But mostly, he said, he will miss his fellow park officials. He has worked with many of them for most of his 43 years.
As park superintendent, Joachimsen has spent the last two years carrying on many projects that he and Daryl Holmberg started. Now it's time to take that long-delayed vacation to visit a friend working in Denali Park & Preserve in Alaska. "(The park officials) can call on me for a while but in June, I'll be driving to Alaska and I won't be coming back very soon. I'm going to see it all once I'm there. It'll be that big vacation I never took," Joachimsen said with a wide smile.
Source: Norfolk Daily News